Lead UX/Service/Product Designer(me), 3x Client Product Owners, Scrum Master, Dev Architect, Offshore Front-End Developers, Offshore Back-End Developers
Axure, Jira, Excel, Illustrator, Photoshop
To design an application, that replicates a number of offline and online processes in an efficient and user friendly manner.
Gather initial requirements, Design Thinking research sessions with the end users, Functional Card Sorting, MVP analysis, Prototype iterative design creation, UAT with the end-users.
I was sent out to Spain, Germany, and Netherlands to conduct workshops with the end users. We used the Design Thinking Methodology to speedily digest the requirements, map out the 'as is' journey, find pain points, discover systems and software used, collate user roles along the journey, create new user journeys and site maps, contuct Crazy-8 sessions, produce multiple clickable prototypes, test and iterate, and finally present to stakeholders

To begin the project, I entered the research phase. I met with the End-Users and Subject Matter Experts in Spain, Germany, and Netherlands to understand their current work processes, and to gather requirements, pain points and wishes for the new product.
          - Identify User Roles Involved
          - Identify Current User Journeys
          - Identify Online, Offline, and Systems currently used
          - Understanding any work-arounds used in the current system
          - Understanding any system limitations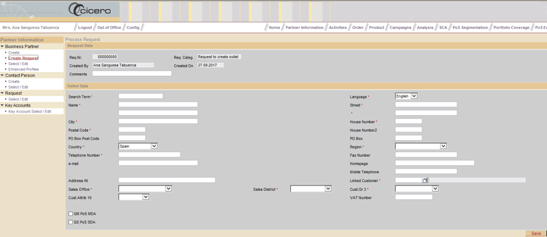 (The original legacy software)

To begin the UX Research phase, I worked with The Project Manager to define the project, plan the scope of the application, work out User Journeys, and use Functional Card Sorting to work out required pages via a Site Map.
          -

Identify User Roles Involved

          -

Identify Current User Journeys
          -

Identify Online, Offline, and Systems currently used
          -

Create streamlined new User Journies and Sitemap
          -

Group similar functional requirements
          -

Cut project up into a 'Phased' approach
Tasks, Systems, Roles, Timings, Pain Graph
In the next stage we invited the attendees of the workshop to sketch out their dream digital solutions. We asked them to quickly draw 8 concepts that may improve the current system, giving them 32 minutes in total. We then asked them to present their concepts to the group.  Finally we asked everyone to vote on which sketches they liked the most. This helped us decide which elements of functionality we took through to the prototype stage.

The main part of this project was to create clickable prototypes in Axure. We used these to validate functional concepts within the team, to show the business, to get feedback from our end users, and to help Developers visualise what they had to create. I used a templating system that replicated SAP Fiori, which is what ultimately was used to develop the App.
After getting the prototype approved by the stakeholders, we as a team had to work out which functionality we could launch first. Using the Minimum Viable Product model.

We organised regular User Forums to present our progress and to collect feedback. We collected each request, mapped them onto a Effort vs Impact graph to decide which project phase we would add the functionality to.